Maxine Marks
Shalom my name is Maxine Marks and I am the owner of Luxury Property in Israel.  Being a British native and with over 30 years experience of living in Netanya , I am just the person to assist you in finding that perfect property that ticks all your boxes.
For the past number of years I have built up my luxury boutique "Pink" Real Estate company here in Israel, specialising in the Netanya area (Ramat Poleg – Ir Yamim and South Beach) and also covering the Herzliya, Raanana ,Caesarea and Hadera  neighbourhoods.
Having a very Zionistic upbringing I know I am extremely passionate about helping my clients, who nearly always go on to be part of our extended Israeli family find that perfect property.  If it is something off plan (direct from the builder) or a resale I will help you make the whole process as stress free as possible.
Should you require, our service includes introductions to Lawyers for all your legal questions, Banking or Mortgage companies for all your financial questions, Interior designers for that extra little finishing touch and even to meet up with schools heads should you be concerned about educating your kids.
Please drop me a line if you have any questions and I promise you a service with a smile 
Gabriella Marks
Gabriella joined the family business 3 years ago after finishing the army and her master's degree in business management.  Having various languages under her belt Gabriella deals also with International clients as well as many local buyers and sellers.  Her speciality is the Ramat Poleg – Ir Yamim neighbourhoods and city centre.  Priding herself with great service you will always be in wonderful hands.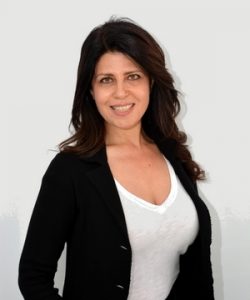 Nava Fried
Nava has many years' experience with resale and new projects in and around the Netanya area.  Having worked for some of the biggest builders in Israel Nava has the added advantage of understanding both buyer and builder and will always manage to find the best deal around.  She specialises in the Ir Yamim neighbourhood.
Robert Marks
Robert is my partner in work and life and deals with many tasks in the company including international marketing, the back office of the internet site and photographing most of the properties.
Adam Marks
Adam joined our family business 2 years ago.  Adam has a very good relationship with many builders in Israel and also deals with commercial real estate in Israel and the UK.
Levana Alkalay
Levana is the office manager (my right hand) she not only manages the office but gives amazing and caring service to our clients during and after the process of buying or renting.